Where? St. Polycarps, Finaghy
When? Thursdays, 4.15 – 5.15pm
Who? Any child, P4 – P7 (no auditions!)
Remember to bring water and a snack for our 10 minute break!
Join our mailing list
Choir 
£55 per term (3 terms per year)
The Big Belfast Choir for kids is launching on 20th September 2018. Together we will sing a range of contemporary and beautifully harmonized songs. A warm welcome awaits when your child walks through the door. We will start the night with voice warm ups and before your child knows it, they will be a living & breathing part of our motto – to #SingRockLive
This modern choir for kids is led by Aoife Cormacain, a fully trained music teacher (PGCE) and choir leader with extensive training in a range of teaching techniques including the Suzuki method, Music Mind Games, Dip (London College Of Music) and continuous professional development in conducting, composing, improvisation, transposing and music theory.
Musicianship
£80 per term (3 terms per year)
*This includes the choir rehearsal above*
Your child can take their new music skills to a whole new level by taking advantage of our musicianship master classes after each choir rehearsal.
Using the Kodály philosophy and Music Mind Games, we will use simple songs and games to help your child gradually learn the elements of music including pulse, rhythm, pitch, dynamics and tempo. By following the programme, your child's musical intelligence will be enhanced as they learn to read music and develop their ability in pulse, rhythm, pitch, dynamics and tempo to help their transition into KS3 music education and beyond.
Our musicianship masterclass will help your child to develop skills that can then be applied to any musical instrument. Not only this but it will open up the world of music reading forever, give your child the opportunity to make music a real part of their lives and translate those little black dots!! (music notes are not to be feared!)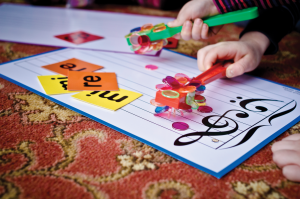 Sign up to the choir here
For more information on the kids choir email Aoife on bigbelfastchoir@gmail.com